Sellafield Process Safety Management Course Success
We delivered our first NEBOSH HSE Certificate in Process Safety Management course for a cohort of learners from Sellafield in w/c Monday 11th October 2021.
How did it go?
The course was very well received. The learners were very engaged with the training and I'm very pleased to say they were rewarded with a 100% pass rate:
What did the learners think of the course?
"A really good course that provides a solid foundation on safety management for people working in the chemical process industries. For someone like myself who has worked in the industry for some years it joined the dots and put a range of process safety topics in order and context"
Dr Glyn R Thomas, CChem, FRSC, Grad IOSH
Sellafield Control Of Major Accident Hazards (COMAH), Capability Lead
"A great introduction for anyone starting or looking to work in the process safety management sector".
Tina Mason, BA (Hons), Dip NEBOSH, CMIOSH
COMAH Support, NEH&S
What does the course cover?
NEBOSH collaborated with the Health and Safety Executive (HSE) to develop the NEBOSH HSE Certificate in Process Safety Management qualification, which combines the advanced technical 'high hazard' expertise of HSE with NEBOSH's ability to deliver strong vocational OSH qualifications.
It is designed to equip delegates with a broad understanding of the accepted principles and recognised industrial practices for the management of process risk. This will ensure that they can recognise and contribute to the control of process safety hazards.
Who is it for?
People from all around the world who work in process industries such as oil and gas, chemicals, plastics and pharmaceuticals. It is ideal for managers, safety representatives and health and safety advisors working within the process industries. It is not designed for chemical and process safety engineers experienced in the specification, design and maintenance of process plant.
It is recommended that learners should already have an underpinning knowledge of health and safety issues, and many will have gained another NEBOSH qualification.
Course Delivery Options
We have an open course delivery scheduled at Energus in Workington the w/c Monday 11th July 2022.
We can also deliver this course "in-house" for you either Live Online (via Zoom or Teams) or Face-to-Face (in the classroom). Please contact us on info@woodwardgroup.co.uk or (01900) 609175 to discuss your requirements.
Find out more about the course here: https://www.woodward-group.co.uk/courses/nebosh-hse-certificate-in-process-safety-management/
IOSH magazine | The Robens' report 50 years on.
In this video IOSH magazine looks at how health and safety has been transformed since Lord Alfred Robens' 1972 report, which followed the Aberfan disaster which killed 116 schoolchildren and 28 adults
Risk management qualification launched by NEBOSH and IIRSM in joint initiative.
Effective risk management helps you make better decisions that protect people, organisations and reputations. That's why NEBOSH and IIRSM (International Institute of Risk & Safety Management) have partnered to develop the new NEBOSH IIRSM Certificate in Managing Risk.
Based around the global risk management standard, ISO 31000, this qualification provides a comprehensive overview of risk. Theory is backed up by real-life, case study practical applications so that learners gain a wide understanding of organisational risk management, learning how to identify, manage and communicate risk.
Risk management is transferable to any industry, profession, organisation or country. By working together, NEBOSH and IIRSM have combined their expertise in education and risk to deliver a qualification that broadens learners thinking beyond their own discipline, enabling them to understand the important relationship between risk management and all business functions.
Over 60 people took part in a pilot of the qualification in 2021. Pilot participants included representatives from Fujitsu, Netflix, Kier Highways, and Allianz. Paula Ireland, a Senior Health and Safety Manager at Fujitsu, said: "The NEBOSH IIRSM Certificate in Managing Risk Course was well structured, and the training material was second to none. The relevant examples given throughout helped me gain a better understanding of the concepts covered."
David Towlson, NEBOSH Director of Learning and Assessment, said: "Successful organisations know how to manage risk well. And not just at Board level but through all functions and levels of the business. The NEBOSH IIRSM Certificate in Managing Risk gives you the skills and confidence, no matter where you work, to apply business risk management principles within day-to-day operations."
Holly Mulvihill-Clark, IIRSM Head of Education said: "Managing risks is everyone's responsibility, from the board to the shop-floor. Risk management helps to improve decision making, navigate times of uncertainty and should form an integral part of strategy and business planning – it aids people and organisations to be more resilient."
The NEBOSH IIRSM Certificate in Managing Risk is initially available to study online only via eLearning. eLearning gives learners the flexibility to study at a time and place to suit them and successful learners will also be eligible for discounted IIRSM membership.
For further information visit: https://www.woodward-group.co.uk/courses/nebosh-iirsm-certificate-in-managing-risk-via-elearning/
— — — — — — —
Early-bird offer!
£300 + VAT if you purchase this course before the 31st of March 2022. £450 + VAT after 31st March 2022.
NEBOSH will be releasing the first logins for this new e-learning course on the 31st of March. Pre-register before this date to take advantage of our early bird offer.
Please Note: While this early-bird offer has now ended, there are still bulk purchase discounts available should you wish to purchase three or more eLearning licences at once.
— — — — — — —
NEBOSH and the Health and Safety Executive join forces to tackle one of the main causes of musculoskeletal disorders
NEBOSH and Great Britain's health and safety regulator, the Health and Safety Executive (HSE), have partnered to develop a new qualification aimed at preventing one of the main causes of musculoskeletal disorders; manual handling.
Musculoskeletal disorders (MSDs) accounted for 8.9million lost working days in Great Britain in 2019/20 with manual handling estimated to be the main cause. 0.5 million workers suffered from a work-related musculoskeletal disorder in 2020/21, with a cost to organisations and to the UK economy.
This is a global problem; the World Health Organization estimates 1.71 billion people experience musculoskeletal conditions worldwide, three in five workers in Europe report MSD complaints, more than half of US adults experience an MSD and it's estimated that they cost countries between 0.5-2% of Gross National Product.
The new NEBOSH HSE Certificate in Manual Handling Risk Assessment is a one-day qualification which is based on the Health and Safety Executive's best practice guidance and tools. It focuses on practical solutions to help recognise, assess, and manage manual handling risks.
On completion of the course, learners will be required to undertake a manual handling risk assessment, based on a selection of video case studies, to put their new knowledge to the test.
Matt Powell-Howard, NEBOSH Head of Product Development, says: "Many organisations jump straight to providing training on manual handling – how to lift etcetera. In developing this qualification we're encouraging organisations to take a step back and take the time to effectively risk assess their manual handling activities. By doing so they may be able to eliminate or reduce an activity and, if manual handling is required, then they'll have all the information they need to protect their workers."
Find out more here: https://www.woodward-group.co.uk/courses/nebosh-hse-certificate-in-manual-handling-risk-assessment/
Let's never stop being 'starry eyed' about safety and health
Half a century ago a controversial committee report was published by the government in Britain, which led to momentous change and radically altered our approach to occupational health and safety. NEBOSH CEO Chris Payne offers his thoughts on the Robens Report and its lasting legacy…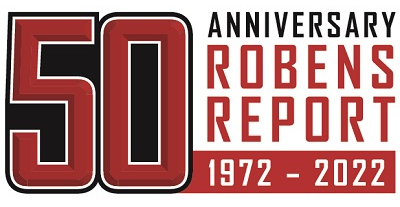 Fifty years on, it's easy to get nostalgic and "starry eyed" about the Robens Report of 1972. After all it was a report that led to the ground-breaking Health and Safety at Work Act (HSWA) 1974, which has influenced regulatory approaches around the world. It took work-related deaths in Britain from an undoubtedly underestimated figure of over 1,000 in the early 1970s, to around one tenth of that now. Of course, it also ultimately led to the creation in 1979 of the organisation I'm now proud to be part of, NEBOSH.
However, at the time of publication, and ever since to some extent, the report has had an air of controversy about it. For example, author Patrick Kinnersly once argued that the report pedalled a "dangerous myth" that accidents can be eliminated if we all just "pull together" (1). In his book 'Rules & Government' Robert Baldwin, claimed the Robens Report offered a "distorted" view of rules and enforcement and he too used the phrase "starry eyed", but in a negative rather than positive context.
In the main, criticism surrounded a key aspect of the report, that "those who create the risks are best placed to manage it." At the time, this firmly placed the onus on employers and employees to work together towards an over-arching aspirational goal of providing a safe place of work. Some regarded this as seeking to blame and shift responsibility away from regulators. However, I would argue that history has shown this not to be the case at all. Through NEBOSH, I see regulators, employers and employees cooperating every day to improve safety and health and a tremendous willingness to succeed.
Of course, it would be naïve for me to say this feeling is universal and that we do not have a significant way to go in reducing workplace deaths, injuries and ill health. However, I firmly believe in the tripartite system of cooperation proposed by Lord Alfred Robens fifty years ago and most importantly the example it sets. We all have a responsibility to keep each other safe and healthy. It's that simple!
Let's use the 50th anniversary of the Robens Report to re-emphasise this message, particularly as we emerge from a global crisis that has threatened us all in one way or another. If ever there was a time for "pulling together" around a "starry eyed" vision for better safety and health, it is now.
This is the first article in a new series by Chris Payne, NEBOSH Chief Executive.
---
Four ways your company can gain a competitive advantage through health and safety
Managing the health and safety of an organisation is about protecting workers. Having a robust health and safety system will not only ensure workers value the business but will also build trust in your reputation and brand, giving the organisation a more competitive advantage.
These are four of the top benefits you can achieve through an investment in safety and health:
1) Retain and gain more workers!
A safe and valued workforce could have a positive influence on job retention and growth opportunities. Workers who feel safe at work may be more inclined to stay within that organisation, knowing they are looked after. This could also have external benefits too. Organisations who have a reputation for being safe could appeal to job hunters and therefore encourage more candidates for roles, giving an organisation a much wider choice when recruiting and being able to get the right people for the job!
2) More money to invest!
Having a good health and safety risk management system in place will reduce the number of work-related injuries and disease. Reducing the amount of money spent on claims, compensation, and a more expensive insurance premium-, meaning more money to invest in the organisation and their workers.
3) Protect the organisation!
In some countries it is a legal requirement and organisations are legally obliged to comply with the law. They not only face hefty fines but can also be prosecuted and imprisoned. By ensuring the organisation is following the law will strengthen the organisations reputation and culture.
4) A more efficient business!
Encouraging a healthy and safe work culture can boost productivity across the whole business, allowing the organisation to be more efficient. Having a business with a positive safety record can demonstrate the organisations values the business and the workers.
How to build a competitive advantage through health and safety
Organisations need to ensure workers understand their health and safety responsibilities when it comes to health and safety and keep this knowledge up to date. IOSH have a range of free resources available to access online.
We have a wide range of IOSH training courses and NEBOSH training courses available that can help.
If you're a business looking to use health and safety as a competitive advantage, we've created a list of five things you can do to improve health and safety in your workforce.
Social sustainability
If you're looking for stronger performance and growth, this can be achieved through having good sustainability practices and setting high standards in your business. The  new IOSH Catch the wave campaign focuses on helping business and harness the value of sustainability.
— — — — — — — — — — — — — — — — — — — — — — — — — — — — — —
Adapted from original article by IOSH, published here:
https://iosh.com/more/news-listing/gain-competitive-advantage-health-safety/
Holiday Office Closure
Our team will be taking an extended break over the festive season and our office will be closed during this time.
Our offices will close at 2.00pm on Tuesday 21 December 2021.
Our offices open again at 8.30am on Tuesday 4 January 2022.

While we will not be able to answer the phone while the office is closed, we can still be contacted by e-mail on info@woodwardgroup.co.uk over this period.
We would like to wish everyone a very happy Christmas and safe and healthy New Year!
Coronavirus Update – Friday 17th December 2021
Our open classroom-based training courses in 2022 are all running as planned with enhanced Covid-19 control measures in place to protect the health of our learners, tutors and support staff.
We are accepting bookings for these courses via the normal channels although email [to tom@woodwardgroup.co.uk] is presently the preferred method.
The Health and Safety Myths of Christmas
Christmas is a special time of year. Even so, it doesn't stop health and safety being – wrongly – cited as a reason for preventing pretty harmless activities from going ahead. Not only does this needlessly ruin the festive spirit but it also trivialises the true purpose of health and safety: protecting people from real risks at, or connected with, work.
These were gifted to the HSE from media reports and correspondence received.
What is health and safety in the workplace?
Workplace health and safety is all about sensibly managing risks to protect your workers and your business. Good health and safety management is characterised by strong leadership involving your managers, workers, suppliers, contractors and customers. In a global context, health and safety is also an essential part of the movement towards sustainable development.
Why is it important?
It's good to know the benefits, so we've listed 10 reasons why health and safety is important.
It is morally right to ensure your workers return home safe and healthy at the end of every working day.
By protecting your workers, you reduce absences, ensuring that your workplace is more efficient and productive.
Research shows that workers are more productive in workplaces that are committed to health and safety.
Reducing down-time caused by illness and accidents means less disruption – and saves your business money.
In some countries, health and safety legislation is criminal law and you are legally obliged to comply with it. Legal breaches can result in prosecution, fines and even imprisonment of senior executives.
To attract investors and partnerships you may need to demonstrate your commitment to sustainability and corporate social responsibility, which will include how you protect your workers.
Increasingly, customers want to buy products and services that are produced ethically – so you also need to think about the work practices throughout your supply chain and deal only with ethical suppliers that protect their workforce.
More and more, job hunters – particularly Millennials and Generation Z – seek roles with employers who share their values, so without strong corporate responsibility and sustainability practices you may struggle to attract or retain the best employees.
A good health and safety record is a source of competitive advantage: it builds trust in your reputation and brand, while poor health and safety performance will directly affect profitability and can result in loss of trade or even closure of the business.
Good health and safety at work secures long-term benefits for you, your business and the wider community.
Five things you can do to improve health and safety in your workplace
Find out more about risk management – you can find information on this through our website or other credible sources.
Lead from the top. Workers are much more likely to get involved and comply with controls if senior management make it clear that health and safety is taken seriously by your business. Actively discourage negative behaviours such as taking risks to save time or effort.
Improve health and safety competence in your business. We can provide NEBOSH and IOSH training courses to meet your needs at all levels.
Get your workers involved in risk assessment: this will increase 'buy-in' and ownership of their own health and safety. Set up health and safety representatives, and if they are already established, support them more visibly.
Implement a health and safety management system for your business. This should include an overall policy setting out your commitment, responsibilities allocated to individuals and your arrangements detailing how you will actually control your risks. The UK's Health and Safety Executive publishes its freely-available standard HSG 65 'Managing for health and safety' or there is the international standard ISO 45001.
— — — — — — — — — — — — — — — — — — — — — — — — — — — — — —
Adapted from original article by IOSH, published here:
https://iosh.com/more/news-listing/why-health-and-safety-is-important/
NEBOSH launches updated Health and Safety at Work Award
NEBOSH, one of the world's leading health and safety awarding bodies, has launched an updated Health and Safety at Work Award. The three-day qualification is popular in countries around the world for giving learners the first steps to health and safety competence.
Designed as a solid introduction to workplace health, safety and risk, the qualification is applicable to all industries and a new assessment – a workplace review – is designed to help learners apply their new knowledge by reviewing how health and safety is managed, identifying any issues present and how they are controlled and making recommendations for improvements. This makes it a great option for employers too because they can give their workforce practical skills that improve organisational health and safety performance.
What's more, the NEBOSH Health and Safety at Work Award is a qualification – accredited at SCQF Level 5 – rather than a course, so that organisations and learners can be assured of its quality.
Dee Arp, NEBOSH Chief Operating Officer, says: "Health and safety is for everyone, not just for managers. The NEBOSH Health and Safety Award at Work is a bitesize qualification that's understandable and accessible so anyone can learn and add value to their own workplace. The language and principles are also closely aligned to NEBOSH Certificate-level qualifications to enable progression for people that want to develop further."
Further information on this new course can be found on our website here: https://www.woodward-group.co.uk/courses/health-and-safety-at-work-award/